Skip Navigation
Website Accessibility
Best Jackson Hole Winter Activities
The winter months offer some of the most beautiful sights and exciting activities in the world! Whether you're an adventure-seeker looking for the thrill of a lifetime or would rather stay out of the cold, there are plenty of Jackson Hole winter activities for every kind of traveler! For a complete list of Jackson Hole's best restaurants, activities, and places to visit, make sure you request access to our free Vacation Guide!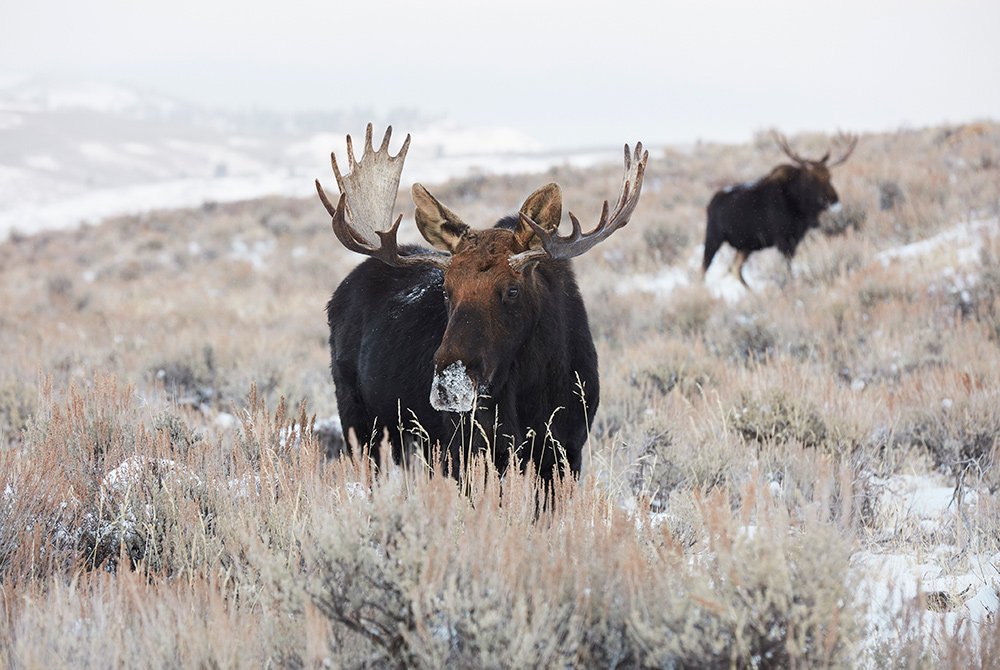 Winter Wildlife Tours
Jackson Hole is a mecca for wildlife photographers from around the world due to the large number of native animals and beautiful, mountainous landscapes. What many people don't realize is that the winter seasons in Jackson Hole offer an equally abundant opportunity for experiencing Wyoming wildlife. We recommend taking a winter wildlife safari on your next trip to the national parks (and be sure to have your camera ready)!
Skiing & Snowboarding
Jackson Hole is a premier destination for skiing and snowboarding during the winter months. With some of the best resorts and most impressive runs in the country, it's no surprise that Forbes Magazine has named Jackson Hole one of the best ski areas in North America! Be sure to book your trip early in the season to beat the annual rush.
This Year We Are Partnering with Ski Butlers!
Ski Butlers delivers top quality ski and snowboard equipment through the simplest and most convenient processes, all while keeping you and your family safe with their COVID-19 protocols. After trying Ski Butlers' service you will never want to stand in a crowded ski shop again. Click the link to book a reservation: www.skibutlers.com/portal/bentwoodinn
Delivery: Ski Butlers will deliver all your equipment rentals directly to the Bentwood. They bring extra boots for a guaranteed perfect fit.
Support: Ski Butlers will meet you at the Bentwood or on the mountain, to switch out any equipment you like throughout your rental period. Simply give them a call and they'll meet you within 45 minutes.
Pickup: On your final rental day, Ski Butlers will come to the Bentwood to pick up all your rental equipment. You do not need to be present for pickup.
Safety: Team members will be wearing masks at all times and will be disinfecting the shop, equipment and delivery vehicles each morning, afternoon and evening. Customers will have the option for no or limited touch boot fittings.
*Now Serving 50 Ski Resorts in North America, France, and Italy.
Jackson Hole Mountain Resort
Exceptional skiing less than 20 minutes away - with free shuttle access just a short walk from the inn!
Snow King Ski Resort
Lovingly referred to as the "Town Hill", Snow King is located right in the town of Jackson, only 10 minutes from The Bentwood Inn.
Grand Targhee Ski Resort
At an hour drive, door-to-door, this ski resort is great for all ages and levels, we love its "down-to-earth" vibe!
Cross-Country Skiing
Another exciting way to experience the Jackson Hole wilderness in the winter is to go cross-country skiing. The valley is home to a number of cross-country skiing tracks and has open wilderness areas near Grand Teton and Yellowstone. Work your way through the winter weather, the majestic Tetons stretching high above. Book your guided Cross-Country trip with Eco-Tour Adventures!
Dog Sledding
The sport of dog sledding dates back to 2000 B.C. and is still a brilliant way to navigate the winter landscape in Jackson Hole. The National Elk Refuge offers one-of-a-kind dogsled tours of the Wyoming wilderness. We highly recommend checking this winter tradition off your bucket list!
Elk Refuge Sleigh Rides
The National Elk Refuge provides more than dog sledding adventures. Here, you can also embark on a sleigh ride! This refuge provides a sanctuary for wild elk during the cold winter months. During this migration, which can last several weeks, the elk cover up to 60 miles. On the sleigh ride, you'll see thousands of these majestic creatures! You may also spot bison, bighorn sheep, mule deer, pronghorn antelope, coyotes, and wolves. Over 175 species of birds also frequent the area every winter, so have your camera ready! Elk Refuge sleigh rides are operated by Double H Bar, Inc. and are available on a first-come, first-serve basis.
What To Wear During a Sleigh Ride in Wyoming
Winter in Jackson Hole is usually very cold. When you're exposed on the sleigh ride, the temperature can feel even colder compared to conditions in town. Spine-chilling winds often blow up the valley, and blizzard conditions can move in quickly. That said, appropriate attire for a sleigh ride is essential. Don't forget to pack a warm coat, hat that covers your ears, gloves, and boots. Be sure to dress in layers so you can adjust to changes in temperature!
How to Get There
The sleigh ride season typically begins in December and runs through April, depending on weather conditions. During those months, Elk Refuge sleigh rides operate from 9 a.m. to 5 p.m. daily. Visitors can purchase their tickets at the Jackson Hole Visitors Center and take a free shuttle bus to the boarding area. Tickets cost $35 for adults and $20 for children (ages 5-12). This adventure will be the highlight of your trip to Jackson Hole!
Snow Tubing
King Tubes
Located within Snow King Resort, King Tubes offers fun snow tubing in Jackson Hole that's perfect for kids and adults alike. Let gravity take control as you fly down one of three groomed snow tubing lanes, then relax as the rope tow pulls you and your tube up the hill. The fast and exhilarating rides down these slopes will have you "laughing all the way"! Kids must be at least 42″ tall to ride and there's only one person per tube allowed.
Grand Targhee Resort
About an hour drive from Jackson Hole, Grand Targhee offers snow tubing between late November and early April. Day passes are just $15 and include the use of a tube and access to the Papoose conveyor lift. This lift quickly whisks visitors to the top of the runs and is perfect for little ones. Reservations are recommended, so be sure to call ahead!
Snowmobiling
If you're not an expert skier, a great way to safely experience the beautiful Wyoming backcountry is from the back of a snowmobile. Jackson Hole is home to some of the best guided snowmobile tours in the country. The Snowmobile Hill Climb in March is one of the most popular annual events in the area. Though technically in the spring, this event includes chilly temperatures and snow, which define winter for most. You'll love watching as participants race up King Mountain!
Shopping and Dining
Jackson Hole isn't just an amazing wildlife destination. It's also home to some of the best restaurants and places to shop in Wyoming!
Take a quick break from the cold and grab a drink at one of Wyoming's best breweries or gear up for your wilderness tour at Hoback Sports.
Where to Stay in Jackson Hole This Winter
After you're done exploring Wyoming and experiencing all of Jackson Hole's amazing outdoor activities, you'll need a warm and cozy place to stay. Luckily, the beautiful Bentwood Inn is located in the heart of Jackson Hole. Here, you'll have easy access to all of the best things to do in the area this winter. You'll love our luxurious rooms, fantastic amenities, and views of the surrounding natural beauty. After all, we are just 10 minutes away from Grand Teton National Park and an hour and a half away from Yellowstone National Park!
During your trip to Northwest Wyoming's picturesque backcountry, why settle for a less-than-amazing lodging experience? Take a look at our Cowboy Room for an accommodation that's almost as gorgeous as the surrounding landscape. This king room features a private entrance on the first floor, a river rock fireplace, and luxurious details you won't soon forget.
Ready to experience a beautiful Wyoming winter? Take the next step toward your dream vacation and book your stay with us now!